Sustainable Facility Management
WHAT ARE WE OFFERING
Organize, consult and operate your asset and facilities management more efficiently
Developing an appropriate balance between the costs, the risks and the required performance of the physical assets.
Provides an integrated approach to asset management development through education & training; requirements gap analysis, mentoring, experience and real knowledge transfer.
OUR SCOPE
Asset Management Consultation
Gap Analysis & Brainstorming
Mentoring & Training
Reliability Centered Maintenance
Full report on asset condition appraisal
WHAT IS ASSET MANAGEMENT?
AS/ISO 55000
An asset is an item, thing or entity that has potential or actual value to an organisation.
ASSET MANAGEMENT COUNCIL (AMC)
The life cycle management of physical assets to achieve the stated outputs of the enterprise
ISO 55000 CONSISTS OF
IS0 55000
An overview of the principles, concepts and terminology relating to asset management.
IS0 55001
Specifies the requirements for establishing, implementing, maintaining and improving an asset management system.
IS0 55002
Provides guidance, expinatory on the application of ISO 55001.
OUR REFERENCES
15055001:2014 – Asset Management System Requirements
ISO 31000 : 2009 – Risk Management Principles and Guidelines
Asset Management Council (AMC)
The Institute of Asset Management (IAM)
International Facility Management Association (IFMA)
British Institute of Facilities Management (BIFM)
ASSET/FACILITY LIFE CYCLE PROCESS
ASSET, FACILITY & MAINTENANCE MANAGEMENT LEVEL
The classification of the Total Asset Management approach and the choices that facilities owner has in implementing their Asset Management strategy in line with their organisation Vision and Goals.
ASSET MANAGEMENT CONCEPT MODEL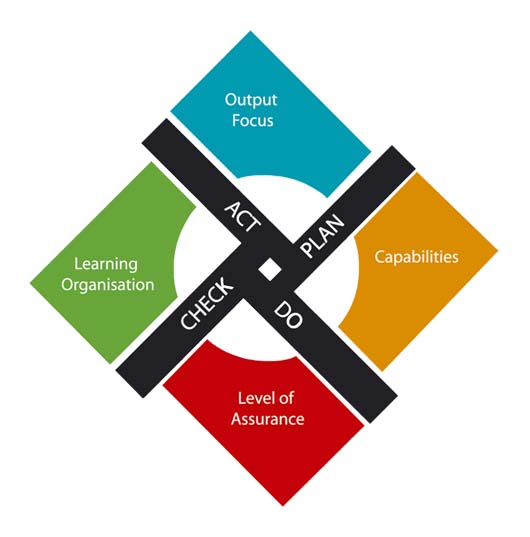 Four principles – Plan, Do, Check, Act (PDCA) process.
CAPABILITY DELIVERY MODEL
WHAT IS FACILITY MANAGEMENT ?
EN 15221-1 2006
The integration of processes within an organisation to maintain  and develop the agreed services which support and improve the effectiveness of its primary activities.
INTERNATIONAL FACILITY MANAGEMENT ASSOCIATION (IFMA)
Facility management is a profession that encompasses multiple disciplines to ensure functionality of the built environment by integrating people, place, process and technology.
FACILITY MANAGEMENT SCOPE
1) Maintenance Of Civil , M & E Works
2) Landscaping And Ground Maintenance
3) Rubbish Collection & Disposal
4) Cleaning & Cleansing Services
5) Pest Control
6) Safety & Security
7) Project Management (Renovation, Upgrading, Extension)
8) IT (Information & Communication Technology)
9) Catering & Vending
10) Event Management
11) Logistics & Fleet Management
12) Parking
13) Design & Construction Services
14) Energy Management
15) Sustainability
CORE COMPETENCIES OF FM PROFESSION
1. Communication
2. Emergency Preparedness and Business Continuity
3. Environmental Stewardship and Sustainability
4. Finance and Business
5. Human Factors
6. Leadership and Strategy
7. Operations and Maintenance


8. Project Management
9. Quality
10. Real Estate and Property Management
11. Technology
WHAT IS MAINTENANCE MANAGEMENT ?
Maintenance management is an orderly and systematic approach to planning, organizing, monitoring and evaluating maintenance activities and their costs. A good maintenance management system coupled with knowledgeable and capable maintenance technical staff can prevent health and safety problems and environmental damage; yield longer asset life with fewer breakdowns; and result in lower operating costs and a higher quality of equipment reliability. Maintenance activity carried out on an asset in order to ensure that the asset continues to perform its intended functions, or to repair the equipment.
MAINTENANCE STRATEGIES
A maintenance strategy or option means a scheme for maintenance, i.e. an elaborate and systematic plan of maintenance action. Following are the maintenance strategies that are commonly applied in JTR Operation and Maintenance :
– Plan Preventive Maintenance or Scheduled Maintenance
– Predictive or Condition Based Maintenance
– Breakdown Maintenance or Operate to Failure or Unplanned Maintenance
TYPES OF MAINTENANCE
In general, maintenance can be classified into the following categories :
Routine – ongoing maintenance activities such as servicing HVAC equipments, cleaning, waste collection, landscaping and ground works which are required because of continuing use of the facilities
Preventive – periodic inspection, lubrication and adjustment of mechanical or other equipment to ensure continuing working condition
Condition Appraisal – major/minor projects such as equipment upgrading or replacement, redesign, or complete reporting which are performed once every few years
Emergency – unexpected breakdowns of assets or equipment. These are unpredictable or reactive type of maintenance and are more difficult to schedule than the above three categories
ELEMENTS OF EFFECTIVE MAINTENANCE MANAGEMENT
1.Maintenance Policy
2. Control of spareparts/materials
3. Preventive Maintenance
4. Condition Monitoring
5. Work Order
6. Job planning/schedule
7. Priority and backlog control
8. Data recording system (CMMS)
9. Performance measurement (KPI)